Fish Pathology, Ecotoxicology and Stress Ecology
Research group of Thomas Meinelt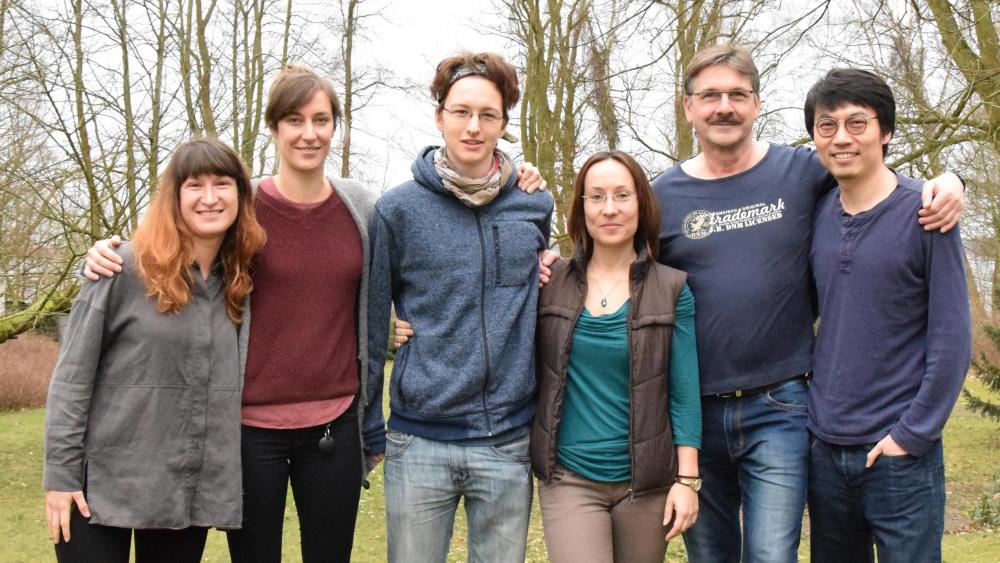 Our research group is divided into three main research fields: Firstly, part of our research is studying the impact of environmental pollution on health, reproduction and stress response of fish. Since fish have no possibility of escaping stressors present in their environment, they are especially vulnerable to disturbances and therefore need particular attention.
Secondly, we study the potential beneficial health effects of humic substances (HS). With up to 95%, HS represent the majority of dissolved organic matter (DOM) in aquatic ecosystems and exceed carbon levels in all living organisms by more than one order of magnitude. However, little is known about the effects on aquatic vertebrates, especially on fish. We investigate the effects of different HS on fishes to evaluate the risk assessment and their potential use in aquaculture. Fish health and welfare need increasingly more attention in times were sustainable aquaculture becomes more important than ever.
Our third research field concentrates on finding, validating and implementing alternative treatments of fish diseases. Alternative treatments help minimising stress on fish and avoiding harmful residues in fish and their environment.
Fish ecotoxicology / stress ecology
Our current projects investigate the effects of high concentrations and imbalances of ions on two cyprinids, Danio rerio and Rutilus rutilus. High amounts of ion-rich waste waters released by the potash mining industry into rivers pose a threat to many freshwater organisms as recorded by several ecological studies. Our research addresses physiological impacts including stress and immune response, as well as reproductive capacities. Studies dealing with high ion concentrations frequently indicated adverse effects, however, little is known about the acute and chronic effects of potash mining waste waters, particularly ion imbalances on fish. Therefore, scientific validation is urgently needed in order to reconsider current discharge regulations.
Humic substances
Humic substances (HS) are produced by degradation (humification) of dead organic material and display high variation in their structure and thereof their effect on organisms. Oral administration of specific HS has beneficial effects, such as growth promotion, and can stimulate the immune system of ruminants, swine and poultry. Furthermore, exposure to HS increased lifespan and reproduction of water flea Moina macrocopa, reduced growth of the water mold Saprolegnia parasitica and enhanced resistance against netting-stress in Xiphophorus helleri. We evaluate whether HS can be used to improve overall and immune related health of fish in aquaculture by enhancing host specific defensive mechanisms, thus reducing the need of treatments against pathogens. Loss prevention and increase of animal welfare are essential element for a sustainable aquaculture.
Alternative treatments
With the topic ´alternative treatment´ we aim to maintain hygienic living conditions for fish in aquaculture in order to prevent pathogen-induced diseases. One candidate we are working on is peracetic acid (PAA). With frequent and correct applications, PAA can effectively inhibit pathogen growth and maintain a good water quality without adversely affecting fish, or suppressing the fish's immunity. Our next step is to transfer our knowledge to fish farmers and help them to improve their hygiene management.