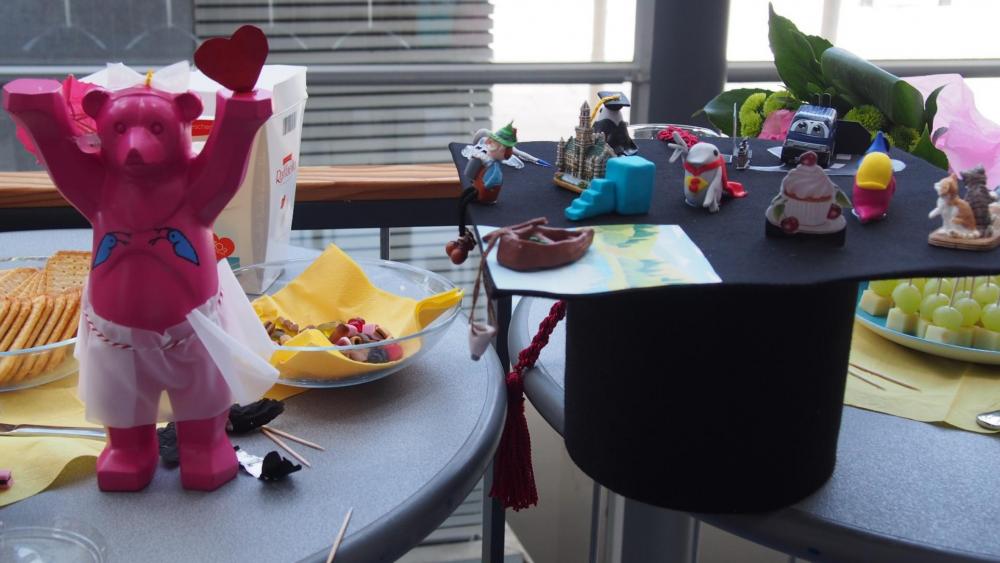 PhD positions
Check here. Application deadline: 30.06.20.
Postdoc fellowship
If you are interested in writing a grant to support a postdoctoral position to work in our lab, there are several opportunities to do so: e.g., IGB fellowship, DFG fellowship, Humboldt fellowship, Marie-Curie fellowship. Please don't hesitate to contact us!
Master/Bachelor projects
We are currently looking for Master's (Bachelor's) students, to conduct the following project(s): "Effect of nanoplastic pollution on key aquatic species" or "Effect of nanoplastic pollution on the spread of disease in aquatic environments" For details check here.
In addition, we would be glad to welcome proactive students who are willing to formulate their own novel research questions under our guidance, and to develop their own project in other research areas. These might include, for example, experimental evolution, biodiversity studies (using modern DNA-sequencing methods), or the effects of climate change on the functioning of aquatic ecosystems. If you are interested, please get in touch to discuss your ideas with us. What do we offer? An inspiring atmosphere in an international research group (our group currently has nine members of seven different nationalities).  We will provide you with a proper level of guidance and supervision during your project, as well as space for autonomous work. We offer a real research experience which will help you in your future career inside or outside of academia (check below what former students have achieved after working with us; note that Master's and Bachelor's projects often resulted in peer-reviewed publications).
Former group members
Nesar Ghadernezhad (MSc student: 2019)
Thijs Frenken (postdoc: 2018-2019; funded by International IGB Fellowship Program)
Bruno Kenji Ortiz-Cañavate Ozeki (MSc student: 2018). MSc thesis resulted in the following publication: Ortiz-Cañavate et al. 2019, Chemosphere
Manja Saebelfeld (PhD student: 2014-2017). PhD thesis available here. After PhD: postdoc at the Wageningen University, the Netherlands
Dilara Ogretmen (Erasmus student: 2016-2017)
Melanie Gerphagnon (postdoc: 2016-2017; funded by International IGB Fellowship Program)
Tatiana Semanova (postdoc: 2017; funded by International IGB Fellowship Program). Now: postdoc, University of Kansas
Yari Osenberg (BSc student: 2016).
Alina Gross (MSc student: 2016). MSc thesis contributed to the following publications: Agha, Gross et al. 2018, Parasitology; Agha, Gross et al. 2018, Frontiers in Microbiology. After MSc: Biology teacher.
Enrique Gonzalez Tortuero (PhD student: 2013-2016). PhD thesis available here. After PhD: Postdoc at University College Cork, Ireland
Johanna Griebel (PhD student: 2012-2016). PhD thesis available here. After PhD: Data scientist in a private company in Munich, Germany
Christin Manthey (BSc student: 2015). BSc thesis contributed to the following publication: Agha, Manthey et al. 2016, Scientific Reports.
Jakub Rusek (PhD student: 2012-2015). PhD thesis available here. After PhD: Coordinator at European Academies Science Advisory Council (EASAC), Brussels, Belgium
Inbar Maayan (Erasmus student: 2014). Project contributed to the following publications: Gonzalez-Tortuero, Maayan et al. 2016, Zoology; Gonzalez-Tortuero, Maayan et al. 2016, Parasites & vectors). After Erasmus project: PhD student at Harvard University
Sabine Giessler (postdoc: 2012-2014)
Amanda Navas Faria (MSc student: 2013). Winner of the 7th LMU EES annual conference: best presentation of the MSc Project. MSc thesis contributed to the following publication: Griebel, Navas Faria et al. 2015, PLoS one. After MSc: PhD student at Georg-August-University Göttingen
Gokce Ayan (MSc student: 2013). Poster prize at the international SEFS conference in Münster, 2013. MSc thesis contributed to the following publication: Rusek, Ayan et al. 2015, Journal of Plankton Research. After MSc: PhD student at the Max Planck Institute, Kiel
Felicitas Buchberger (MSc student: 2013). After MSc: PhD student at LMU Munich
Monika Poxleitner (MSc student: 2012). Winner of the 6th EES annual conference: best presentation of the MSc Project. MSc thesis contributed to the following publication: Griebel, Poxleitner et al. 2015, PLoS one. After MSc: PhD student at LMU Munich
Mingbo Yin (PhD student: 2009-2011). Winner of the Chinese Government Award for Outstanding Students Abroad. PhD thesis available here. After PhD: Assistant Professor at Fudan University, Shanghai, China
Stefanie Weigl (Diploma student: 2011). Diploma thesis contributed to the following publication: Weigl et al. 2012, Parasitology. After Diploma: MSc student at TU Munich
Isara Arsiranant (Diploma student: 2010). After Diploma: working at Marine and Coastal Resources Research Center in Thailand
Olivia Hesse (Diploma student: 2010). Diploma thesis contributed to the following publication: Hesse et al. 2012, BMC Ecology. After Diploma: PhD student at LMU Munich
Wolfgang Engelbrecht (Diploma student: 2010). After Diploma: PhD student at LMU Munich
Jennifer Lohr (MSc student: 2009). MSc thesis contributed to the following publications: Lohr et al. 2010, Parasitology; Lohr et al. 2010, J Eukaryotic Microbiology. After MSc: PhD student at University of Fribourg, Switzerland
Other BSc students: Anna May: 2013; Clarissa Mathieson: 2012; Corinna Sachs: 2012; Helena Macke: 2011; Felicitas Buchberger: 2011; Eva Kluzik: 2010