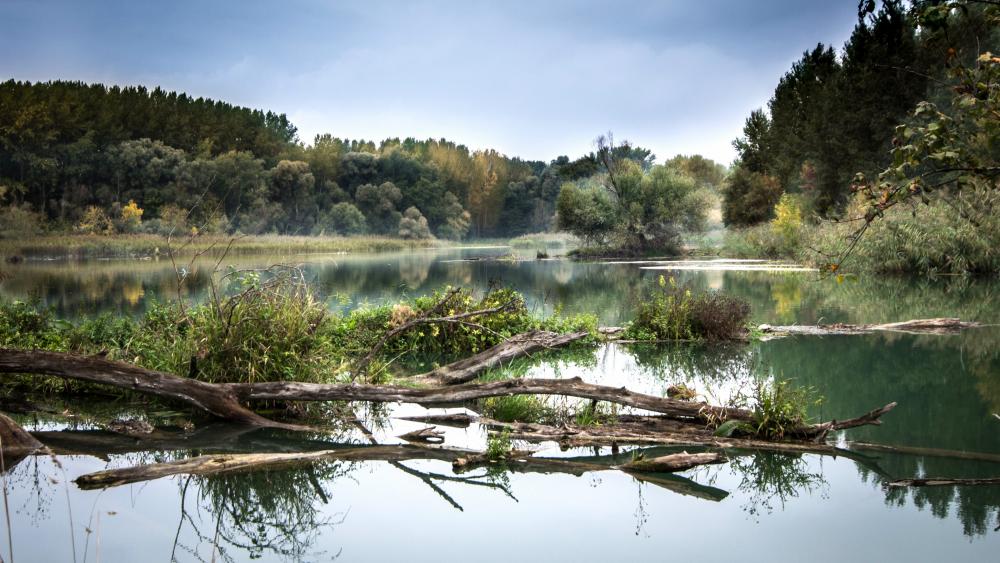 The dramatic decline in biodiversity, i.e. the disappearance of species, populations, habitats or even entire ecosystems, occurs much more rapidly in inland waters than on land or in the sea. Nowhere else do scientists record as many extinct species as in rivers, lakes, coastal areas and groundwater. In Germany, too, freshwater species and their habitats are at the top of the Red List.
Loss of biodiversity often unnoticed and carrying risks
In future, this loss of biological diversity could also become a problem for humans. This could happen when water bodies are no longer able to perform important functions such as supplying drinking water, providing fishery resources, degrading pollutants or serving as recreational areas. Because of these essential ecosystem services, they should actually be granted special protection and sustainable use. But the silent crisis of aquatic biodiversity is taking place beneath the surface – in two senses –, often unnoticed by society, industry and politics. Meanwhile, the pressure of use from agriculture, industry, transport, drinking water and energy production, wastewater disposal and leisure activities continues to increase. Climate change, introduced pathogens and invasive species further exacerbate the crisis.
New agenda to advance biodiversity research and environmental policy
In order to comprehensively protect water biodiversity, the authors of the paper recommend that German biodiversity research in the water sector be further developed in a targeted manner. The basis for this is the joint research agenda "Living water: research agenda on the biological diversity of inland and coastal waters", which was presented in Berlin on 14 May 2019.
The research agenda aims to document the status and development of water biodiversity, to better understand influencing factors, to derive forecasts and to develop strategies and measures for sustainable biodiversity management for water bodies in Germany.
"With our agenda, we are pursuing a holistic approach, from spring to estuary, that takes into account the entire catchment area of water bodies," explains lead author and IGB scientist Sonja Jähnig. This is necessary in order to assess the extent, causes and consequences of the loss of biological diversity in and along these waters.
As an important cross-sectional task, the researchers would like to develop, bundle and make available free of charge data sources which document the state and change of biodiversity. Furthermore, the biodiversity experts name four central research areas in their agenda that support environmental policy and are intended to ensure the conservation and improvement of water biodiversity and its sustainable use. The scientists recommend the following research priorities:
Research on the development of a central aquatic biodiversity monitoring system that uses innovative methods such as eDNA and thus enables new findings on species, ecosystems and sources of pollution.
Substantial ecological analyses, e.g. on influencing factors and interactions in ecosystems, the effects of extreme events and the extension of model approaches.
The consideration of human motives and actions as well as the development of methods for the presentation and weighing of ecological, economic and social needs; and the development of new forms of communication and sensitisation for biological diversity in inland and coastal waters.
The evaluation and optimisation of environmental policy measures and management options as well as the development of further options for action to protect and promote water biodiversity in Germany and worldwide.
With these propositions, the research agenda marks the start of a dialogue on research needs in inland waters and at the same time supports the development of the BMBF Framework Programme "Research for Sustainable Development (FONA)".
DOI: 10.4126/FRL01-006418180 >
Jähnig SC, Adrian R, Arlinghaus R, Becks L, Behrmann-Godel J, Berendonk T, Borchardt D, Dutz J, Freyhof J, Gaedke U, Geist J, Gessner M, Großart H-P, Haase P, Hahn HJ, Hering D, Hölker F, Jeschke J, Jürgens K, Kremp A, Kube S, Labrenz M, Leese F, Monaghan MT, Pätzig M, Pauls SU, Piontek J, Pusch M, Schäfer RB, Schneider J, Sommerwerk N, Stöck M, Straile D, Suhling F, Wagner A, Weitere M, Weithoff G, Winkelmann C, Worischka S. 2019. Living Waters: A Research Agenda for the Biodiversity of Inland and Coastal Waters.
Background
On the occasion of the 15th BMBF Forum for Sustainability (13-14 May 2019) on "Maintaining Biodiversity – Researching for our Future" and the "Research Initiative for the Preservation of Biodiversity", the authors of the research agenda identified the most important research needs in and on inland waters. The exchange with the Strategy Group "Coast" of the German Marine Research Consortium takes into account the (original) connectedness of these habitats.