Apprenticeships
We offer the following apprenticeships at IGB:
Office Manager
Computer Science Expert subject area: System Integration
Chemical Laboratory Technician
Biology Laboratory Technician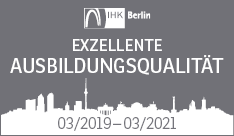 Internships
Unsolicited applications: Each year, we offer a limited number of internships. These can be either mandatory internships (for pupils and students) or voluntary internships for a duration of up to four weeks. Longer periods can also be arranged on a case-by-case basis. Interns can be deployed in any of IGB's research departments. Please send your application dossier, containing a letter of motivation, Curriculum Vitae and certificates, as a single pdf file by email to the secretary's office of the department that interests you:
Our secretaries will then forward your documents to the relevant members of staff. After reviewing whether we will be able to accept you for the specified period, we will contact you. We look forward to receiving your application at any time of the year!
In addition, we regularly offer students from Germany and abroad internships on the topic of 'Ecosystem services of inland waters and floodplains'. Suitable branches of study include biology, hydrology, geoecology, environmental sciences, geography and environmental economics. No payments are made for internships. The range of tasks includes:
Involvement in interesting interdisciplinary research projects on the topic of ecosystem services and freshwaters
Tackling work elements on these projects by carrying out research, preparing and analysing data, drawing up a report text, and helping to organise events
Expert support, with the option of undertaking independent work, with regular feedback from the team
Engagement in a motivating working environment and an international research group
Bachelor or master's thesis
IGB offers the opportunity to write your Bachelor or Master's thesis, provided that both sides express a mutual interest and a suitable topic is available. Please contact the relevant scientists from the departments.
Voluntary ecological year (FÖJ)
Young people also have the opportunity to serve a voluntary ecological year at IGB, starting on 1 September each year. In this context, we work closely with the supporting organisations Jugendwerk Aufbau Ost (JAO), the Vereinigung Junger Freiwilliger (VJF) and the Internationale Jugendgemeinschaftsdienste (ijgd). Volunteers can choose to engage in various working groups in any of the following areas:
Breeding and reintroducing the sturgeon/aquaculture
Fish behaviour/individual behaviour, swarming behaviour and animal welfare
Fish diseases/ecotoxicology
Fish diseases/parasitology
Analysis of water samples
Supporting laboratory and field experiments with aquatic plants and periphyton
Tasks include daily animal care, feeding and cleaning, as well as laboratory work related to preparing experiments, sampling, processing and treating samples, analysing water and independently conducting other minor laboratory analyses. Data acquisition and maintenance as well as preliminary data analyses are also among the tasks to be completed in most of the research teams. In the course of the year, the opportunity may also arise to participate in field work for several days. In addition, all volunteers are warmly invited to attend scientific lectures and presentations which are held once or twice a week. Our volunteers gain insight into:
scientific work for career guidance
laboratory skills, experimental field work, handling chemicals
the responsible handling of laboratory animals
independent experimental setup and sample treatment
involvement in experimental procedure, data acquisition and data evaluation
Your contact person at IGB is Asja Vogt. If you are interested in serving a Voluntary Ecological Year at IGB, please first contact one of the above mentioned supporting organisations.